Chick Cottage Residences
Rustam Bagh Road, Bengaluru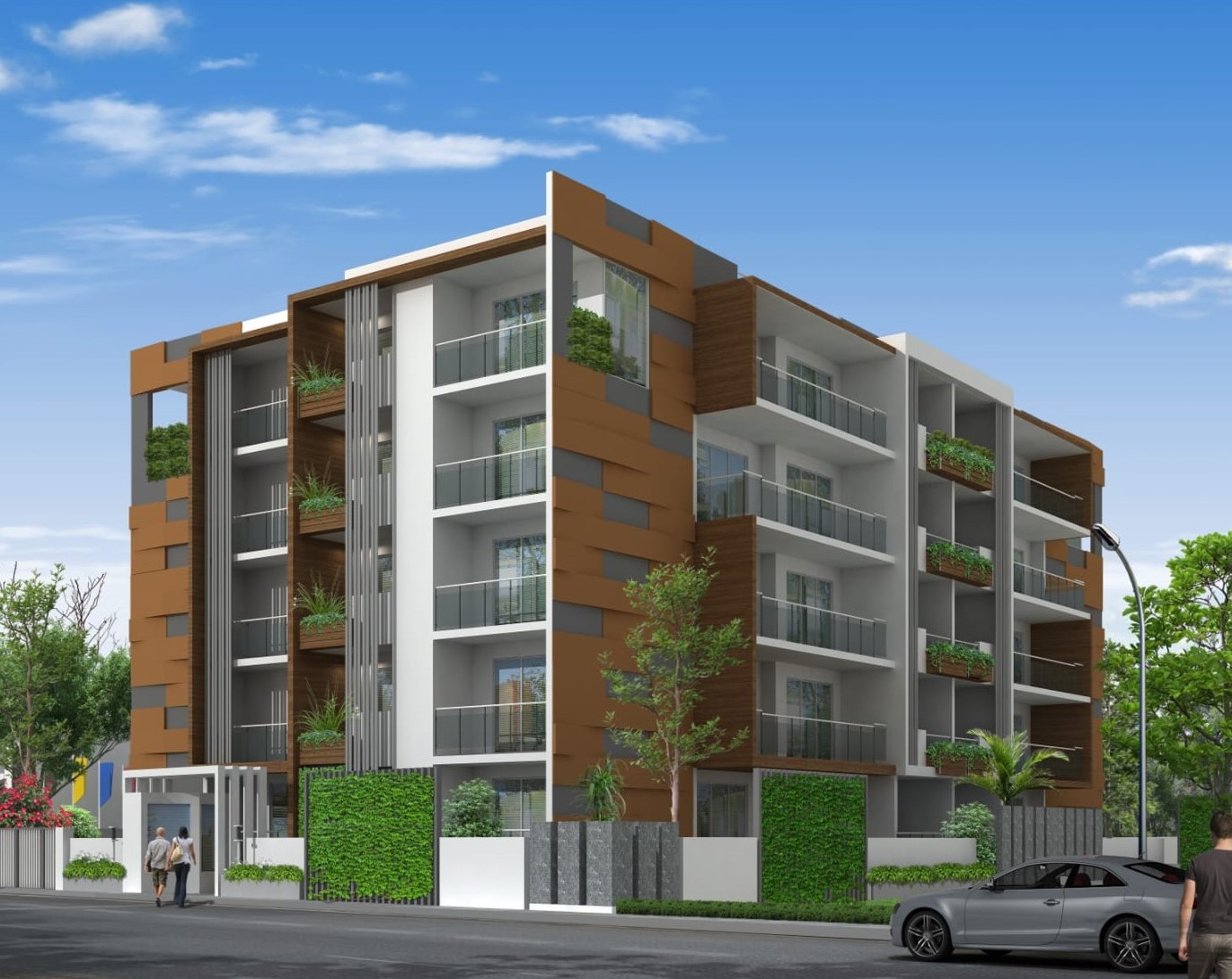 Tree of Life Dwellings LLP (TOL) is a collaborative between Subiksha Construction Pvt Ltd and Viridian Infra Pvt Ltd. TOL has emerged from a vision to combine the very best of Subiksha and Viridian. Subiksha has more than a decade's experience in real estate construction and marketing. The promoters of Viridian are professional architects with more than 25 years of experience in large scale architectural projects in government and private sector across India and overseas.
Here's a rundown of CHICK COTTAGE RESIDENCES:
The cornerstone of TOL is the combined experience of Design Build, and the offer of a product par excellence in design, construction technology, sustainability, quality with adherence to time and professional approach reflected in the details.
TOL aims to capitalise this collective experience and bring together well designed spaces, where you want to live. It not merely an 'Address', not just a 'Residence' – It is a 'Home'. TOL promises a Brand which is a benchmark in Design, where every inch of space matters. It attempts to Redefine Design and Redefine Space; transform the way Urban India thinks about its homes.
Banking partners




STRUCTURE
Shell: RCC Footing and Column Frame Structure. Basement with RCC Retaining Walls.
Masonry: High quality cement Concrete BlockMasonry. Lintels and Shades as per design scope. Plumb and level cement mortar plastering.
Waterproofing: Bathrooms, Balconies andExposed Terrace will be water proofed. The height of each floor above basement shall be 3000mm from floor slab to floor slab.
FLOORING & DADO
Living & Dining: Indian Marble laid with paperjoints and polished.
Kitchen: Indian Marble laid with paper joints andpolished. Dado with Vitrified Tiles/ Granite above the counter up to a height of 600mm. Utility: Vitrified Flooring. Partial dado on walls with Glazed Tiles.
Master Bedroom: Wooden Laminate Flooring.
Other Bedrooms: Wooden Laminate Flooring/Vitrified Flooring.
Master Bathroom: Granite floor, and large VitrifiedTiles on the walls up to 2100mm in shower area and 900mm in other areas.
Other Bathrooms: Vitrified tiles on the floor andlarge Vitrified Tiles on the walls up to 2100mm in the shower area and 900mm in other areas.
Patio/ Balconies: Vitrified Flooring. Common Areas/ Staircase: Marble Flooring.
DOORS & WINDOWS
Doors: Main Door Frames and Panel Shutters inTeakwood.
Internal Doors: Frame in Hardwood, and DoorShutters in solid core flush (block board) shutters with a Natural Wood Veneer/ Masonite Doors. Windows: Branded UPVC sliding shutters.
Window Grills: Grills (half window only) shall onlybe provided for regular windows. No window grills shall be provided or permitted for sliding windows which open to balconies.
Finish: The Internal Door Shutters and Framesshall be provided with a PU (Polyurethane) Finish.
Hardware: All Hardware shall be in Brush StainlessSteel Finish. The Main Door shall be provided with a Night Latch of Godrej or equivalent make. All other Doors will be provided with Door Bolts and a Mortise Lock or Tubular / Cylindrical Lock. All Openable Windows shall be fitted with friction stay Hinges. Magnetic / Concealed Door Stoppers of Hafele or equivalent make shall be provided for the Main Door and Bedroom Doors.
ELECTRICAL
Wiring: All Wiring shall be of Havells/ Finolex/ RRKabel or equivalent make, concealed in 19mm Dia, 2mm thick PVC Conduit Pipes. The wiring for the 15 Amp points shall be in 3/20 copper wire of 660/440 Volts rating adequate for equipment of capacity up to 3.0 KW. The wiring for 5 Amp points shall be of 3/22 rating adequate for wet grinders / mixers / shavers / refrigerators / washing machines and other equipment of capacity up to 1100W.
Power: 7 KVA Power Allocation to each flat withELCB. 100% stand by Generator Power for Lighting and Fans.
Switches: All switches shall be of Schneider orequivalent make. Apart from the basic light and fan controls, the following number of sockets shall be provided in various rooms.
Living / Dining: 8 Nos - 5 Amp Switch & Socket
Kitchen: 4 Nos – 5 Amp Switch & Socket, 4 Nos – 15Amp Switch and Socket
Utility: 1 Nos – 5 Amp Switch & Socket, 2 Nos – 15Amp Switch and Socket
Master Bedroom: 5 Nos – 5 Amp Switch & Socket
Children's Bedroom: 5 Nos – 5 Amp Switch &Socket
Guest Bedroom: 4 Nos – 5 Amp Switch & Socket
Bathrooms: 1 Nos – 5Amp Switch & Socket,provision for Geyser.
Maid's Room: 1 Nos - 5 Amp Switch & Socket. One Telephone Point each shall be provided in Living and Master Bedroom. Internet Connection provision to Individual Units shall be through a Service Provider.
HEATING | VENTILATION | AIR-CONDITIONING
Provision for Air-Conditioning will be made in the Bedrooms.
SANITARY FIXTURES
Plumbing Fixtures: All Faucets shall be CP, heavybody metal fittings of Grohe/ TOTO or equivalent make shall be provided in all Bathrooms. All Basins shall be provided with a 32mm CP waste coupling & CP bottle trap of standard make. Hot water connection shall be provided to the Shower and Wash Basin in each Bathroom.
Sanitary Fixtures: Wash Basins and Western Style,Porcelain EWC of Kohler/ TOTO or equivalent make shall be provided in all Bathroom.
Kitchen Sink: Stainless Steel Sink with Drainboard ofFranke/ Nirali or equivalent make.
Cockroach Traps: A detachable stainless steelcockroach trap with lid of Chilly or equivalent make shall be provided in all bathrooms.
Bathtubs: Not provided as a part of standard fitment. Shower Cubicles: Glass Partition shall be provided for the Shower Area in Master Bathroom. For all Bathrooms, Glass Cubicles can be provided as a part of additional fitment as per requirement of Flat Owner. Bathroom Accessories: Towel Rings, Toilet Paper Holders, Towel Racks and Soap Dish in Master, Children & Guest Bath shall be provided. Washing Machine Point: One Cold Water Inlet and Drainage Outlet for a Washing Machine shall be provided in the Utility.
Plumbing: All Water Supply Lines & Drainage Linesshall be in PVC pipes.
PAINT
All Internal Paint in Plastic Emulsion. Ceiling with Oil Bound Distemper. Exteriors will be finished in Surfatex Matt or equivalent. Special Textured Paint may be used in certain areas. For other areas, Cement Based Paint of Snowcem make shall be used in ducts / basements etc. MS Railings etc. shall be provided with a Zinc Chromate Primer and Synthetic Enamel Paint.
UTILITIES & SERVICES
Lifts: Automatic Passenger Lift of Kone/ Johnson/equivalent will be provided.
Security System: Video Phone, Video Camera /Intercom to all Flats connected to the Security Cabin. Back-up Power: Back-up Power shall be provided to all the Flats for Lighting and Fans and also to Common Area Lighting, Pumps and Motors etc. The Generators shall be provided with Acoustic Enclosures and an Automatic change-over switch. Sewage Treatment: Sewage Treatment Plant shall be provided with separate plumbing for the use of re-cycled water in landscaping and for the flushing system.
FACILITIES & AMENITIES
Multipurpose Hall: A Common Space for Parties/Functions will be provided.
Gym: A Gym with Commercial Low-impact Treadmill,Total Body Elliptical Fitness Cross Trainer, Upright Cycle and such equipment shall be provided.
Soil: Good Quality Red Soil and Sand Mixture withmanure shall serve as the base layer for Landscaping. Irrigation: Sprinklers and a Drip Irrigation System shall be provided for Landscaped Areas.
Soft Landscaping: Grass, Shrubs, Bamboo etc.Simple plants shall be provided in the terrace garden. Hard Landscaping: Cobblestone and Interlocking Cement Pavers shall be provided in Pavement Areas.